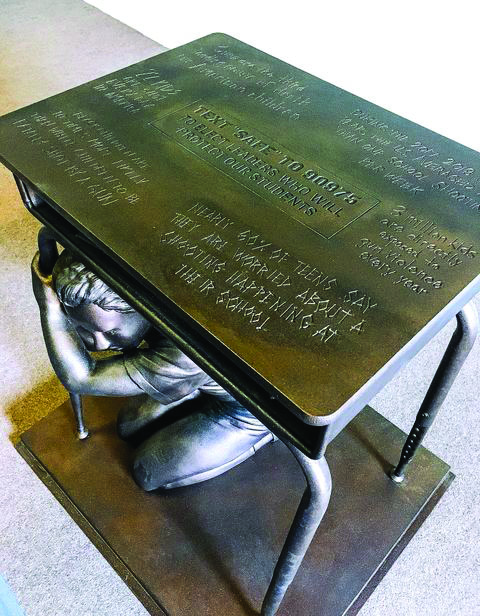 Manuel Oliver, the father of a boy named Joaquin who lost his life in the shooting at Florida's Marjory Stoneman Douglas High School, 3-D printed 10 statues of a young girl and released them Sept. 20 across the United States. Some locations include the Shadle Library in Spokane, the Center for Social Justice in Las Vegas, Houston's City Hall in Texas and Philadelphia's Museum of Art.
The statue, called The Last Lockdown, depicts a young girl hiding for her life under a school desk during a lockdown procedure. The girl's face is filled with fear, with gun violence statistics written on the top of the desk, including:
• Guns are the third leading cause of death for American children.
• Twenty-two kids are shot every day in America.
• Black children are 10 times more likely than white children to be fatally shot by a gun.
• During the 2017-2018 school year, the US averaged more than one school shooting per week.
• Three million kids are directly exposed to gun violence every year.
• Nearly 60 percent of teens say they are worried about a school shooting happening at their school.
These statistics surround a box that says "Text 'SAFE' to 90975 to elect leaders who will protect our students."
According to CNN.com, Oliver created this "gut-punch" sculpture with Sean Leonard and Daniel Crumrine, creative advertising directors in Texas. He also worked with the Giffords Organization, a gun-reform nonprofit run by former Representative Gabrielle Giffords, who was shot at an event Jan. 8, 2011, in a supermarket parking lot in Casas Adobes, Arizona.
This statue is supposed to make people feel uncomfortable when they see it, according to the project's co-creator Sean Leonard. It's supposed to be a reminder of the issues of school shootings and other mass shootings around America, such as the mass shootings in Las Vegas in October 2017 and Parkland, Florida, in February 2018. These were two of the worst mass shootings in American history, happening within six months of one another.
The creators want people from different viewpoints to talk about the issue. They hope older generations will understand how common school shootings are in this era. With that, according to mymodernmet.com, Oliver and his team want to encourage people to vote in the 2018 midterm elections Nov. 6, with the statues as reminders of one of the biggest issues in the U.S.