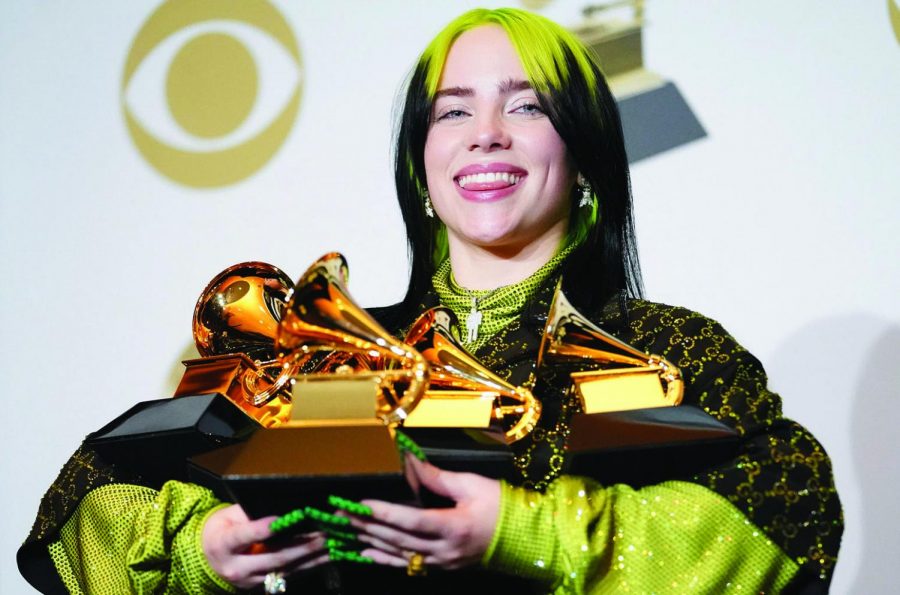 At her first ever Grammys, American singer and songwriter Billie Eilish was one to watch throughout the night. 
   The 62nd Grammys were, like most before it, highly anticipated. All of today's most prominent artists were there, all very successful in their recent albums and singles. With all of these new releases, many were eager to see who would win the big four. These top honors are the biggest and highly coveted categories. They are as follows: Album of the Year, Record of the Year, Song of the Year, and Best New Artist. Back in 1981, singer Christopher Cross was the first person to be awarded all four titles. The big four sweep hadn't been done since then, until the 2020 Grammys.
   At only 18 years old, Billie Eilish walked into music's biggest night with six nominations. These included the big four, along with Best Pop Solo Performance and Best Pop Vocal Album.
   Released March 2019, her debut album When We All Fall Asleep, Where Do We Go?, was made in her bedroom alongside her older brother and producer Finnaes O'Connell. She has been making music since she was just 14 years old, releasing her single "Ocean Eyes" to SoundCloud in 2015, which sent her on the path to stardom. Today, according to Spotify.com, Eilish has over 59 million monthly listeners.
  One after the other, Eilish walked onto the stage to accept five awards, including the big four and Best Pop Vocal Album. In their acceptance speech for album of the year, O'Connell said, "We stand up here confused and grateful." Eilish herself made it a point during her speeches to thank the fans saying, "Mainly I think the fans deserve everything. I feel like they have not been talked about enough tonight because they are the only reason any of us are here at all."
   Although the awards alone are incredible, Eilish also broke records becoming the second, youngest, and the only female to ever receive the big four.