Advertising
LAST CHANCE!
We're extending the deadline for 2019 Senior Shout-Outs. Orders will be accepted through the end of Monday, May 20. The price for each ad is $30 until the end of Thursday, May 16, when it goes up to $35. Don't miss out!
Click here to reserve your 2019 Senior Shout-Out today! Reservations and payments are due by Thursday, May 16, 2019. For payments received after this date, publication is still possible, but it cannot be guaranteed.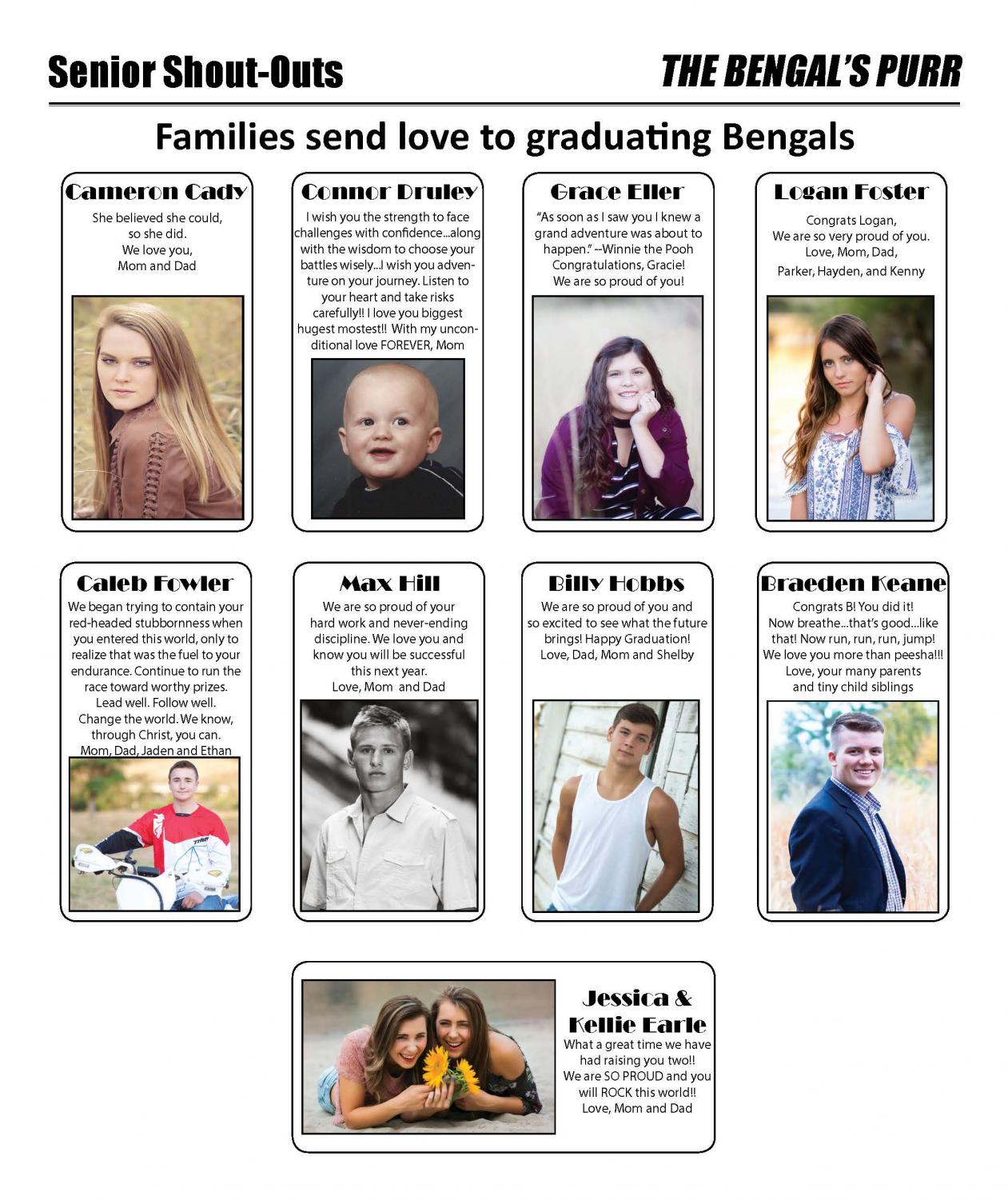 Family and friends of LHS seniors:
To recognize your 2019 graduates, the school's award-winning student newspaper, The Bengal's Purr, will print senior shout-out ads in its June 1 graduation issue. These make great keepsakes and are a wonderful way to recognize your graduate's hard work!
The cost for a business-card size, full-color ad in the newspaper is $30, and space is limited.
To reserve your space, just fill out the form linked above. Congratulations to the LHS class of 2019!
Contact us about advertising your business, nonprofit or campaign:
• Click here to see the 2018-2019 Rate Sheet and deadlines
• Click here to fill out our Ad Reservation Form
• [email protected]
• 208-503-6264 (text, voice)
Advertise in The Bengal's Purr and you'll reach more than 1,000 teenagers, plus their teachers and families! Prices start at $25 for full-color ads. We can print your previously designed ads or even something as simple as your business card, and we can provide design services if needed (starting at $15).
The Bengal's Purr has been in publication since 1927 thanks in part to the support of community advertisers. This school year we're receiving generous support from organizations including:
• 3 Peas in a Pod Bouquets
• All That Glitters
• Amy McCall Photography
• Bliss Salon, Memory Abe-Decker
• BAR, Born Again Resale
• Campaign for Bob Hasenoehrl for County Commissioner
• Clarkston High School, Bantam Boosters
• Diffuse It & Lose It, doTERRA
• Hometown Inspections
• Idaho Beverages, Pepsi
• Imua Hawaiian Style Restaurant
• Inland Cellular
• L-C Ice Arena, Lewis-Clark Amateur Hockey Association
• LIFE, Lewiston Independent Foundation for Education
• Lucidity Photography
• Papa John's Pizza
• Potlatch No. 1 Federal Credit Union
• Printcraft Printing, Inc.
• Reliance Center
• Ridinger's: The Art of Photography
• Stellar Styles Photography
• Valley Maids
• Village Centre Cinemas