Advertising
GET YOUR 2020 SENIOR SHOUT-OUT AD
Calling all family and friends of LHS seniors!
To recognize your 2020 graduates, The Bengal's Purr student newspaper will print Senior Shout-Out ads in its May 30 graduation edition.
Copies will be shared with graduates, families and the community, and also through this website.
The cost for a business-card size, full-color announcement is $30.
To make your reservation, please complete this Google Form.
Reservations are due Friday, May 15, and payments are due Friday, May 29.
Congratulations to all Bengal seniors and their families!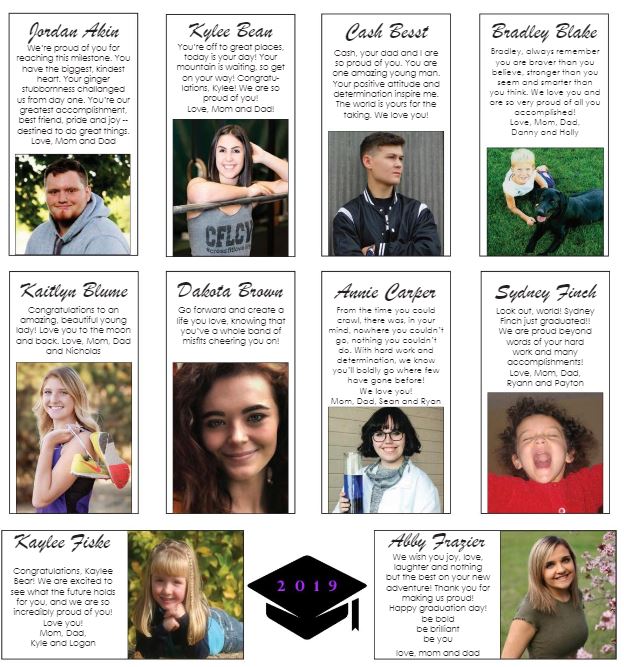 PROMOTE YOUR BUSINESS
Advertise in The Bengal's Purr and you'll reach more than 1,000 teenagers, plus their teachers, families and community! Prices start at $25 for full-color ads. We can print your previously designed ads or even something as simple as your business card. We can also provide design services if needed (starting at $15).
Click here for our rate sheet with ad sizes, prices and deadlines.
Click here for online our ad reservation form.
The Bengal's Purr has been in publication since 1927 thanks in part to the support of community advertisers. For the 2019-2020 school year we're receiving generous support from organizations including:
• All That Glitters
• Amy McCall Photography
• Clarkston High School, Bantam Boosters
• Happy Day Restaurants
• Idaho Beverages, Pepsi
• Inland Cellular
• LIFE, Lewiston Independent Foundation for Education
• Life Choices Clinic
• Papa John's Pizza
• Potlatch No. 1 Federal Credit Union
• Printcraft Printing, Inc.
• Reliance Center
• Ridinger's: The Art of Photography
• Stellar Styles Photography
• Village Centre Cinemas
• World of Trophies