Center for Arts and History features local artists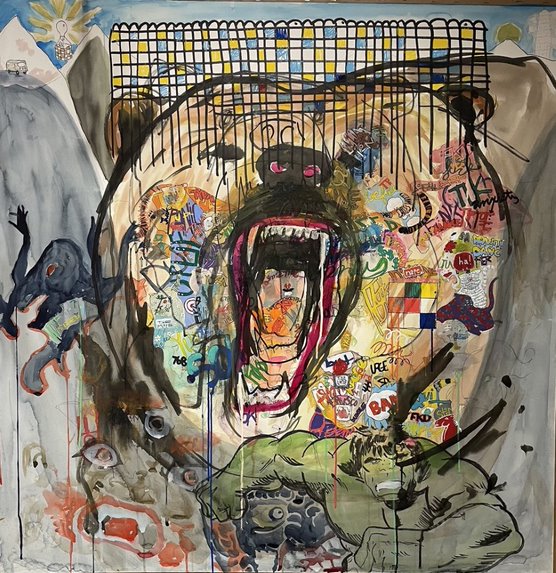 The Lewis-Clark Center for Arts and History currently displays two exhibits and has many exciting events lined up. Gallery hours are 10 a.m.-4 p.m., Tuesdays, 12-4 p.m., Wednesdays and Fridays, 12-6 p.m., Thursdays and by appointment.
The first-floor exhibit, "Over the Line: A Regional Faculty Art Exhibition," contains more than 50 pieces of artwork by more than 30 regional artists. Mediums of the work include drawings, paintings, photography, printmaking, sculptures, textiles and video. According to the press release on the exhibit, the center features works that "…push the boundaries of their medium, experiment with thresholds, analyze system and data sets, engage in interdisciplinary practices, immerse themselves in nature, imagine alternate realities, invite diverse perspectives to create positive change, examine issues of migration and the climate crisis, and dive into intimate spaces."
The artists who are in the show include M Acuff, Sarah Barnett, Peter Christenson, Annie Cunningham, Caroline Earley, Jen Erickson, Chad Erpelding, Amanda Leigh Evans, Kelsey Grafton, Joshua Hobson, Jenny Hyde, Stacy Isenbarger, Aaron Johnson, Sally Graves Machlis & Delphine Keim, Megan Martens-Haworth, Rob McKirdie, Lily Martina Lee, Justin Lincoln, Maria Lux, Squeak Meisel, Lisa Nappa, Kyle Peets, Cozette Phillips, Jessica B. Raetzke, Mathew Rude, Reza Safavi, Lenora Lopez Schindler, Emily Somoskey, Mike Sonnichsen, Christopher Tyllia and Kate Walker.
These artists are from many different educational institutions, including Boise State University, Eastern Washington University, Gonzaga University, Lewis-Clark State College, North Idaho College, Spokane Falls Community College, University of Idaho, Washington State University, and Whitman College.
The second-floor exhibit, "Tomograms," is an exhibit created by Laura Ahola-Young and Shawn Edrington. Ahola-Young and Edrington were formerly teacher and student, but a shared interest in microscopic hidden realities has helped both create the exhibit and grow their friendship. Plant lives, algae, and human behavior take forefront in Ahola-Young's work, whereas the tension between nature and manmade environments takes the spotlight in Edrington's creations.
Edrington's work focuses on investigating the ecological, cultural, and sociopolitical practices that intervene and reshape the form of contemporary landscapes, incorporating both the arts and the sciences.
"My approach to making art is intertwined with a sense of place," said Edrington in her artist statement. "My work is home out of an interest in the intersections of land use, extraction, infrastructure, consumption, and ecology. In considering my own involvement in these systems: knowingly and unknowingly, directly and indirectly, I seek to localize my investigative impulse, to reference issues that have a closeness or proximity, that is to consider how we are always already wrapped up in those things that we try to examine as if existing somehow 'outside'."
Ahola-Young investigates the balance between destruction and creation in her work.
"Cells and stars, the minuscule to vast, must experience destruction for life to exist as we know it," Ahola-Young's artist statement explains. "My work reflects my desire for absolute and claims none. For me, knowledge is always asking additional questions." Ahola-Young has named her most recent collection of paintings "Prodromes", which is an early symptom that indicates the coming of an attack or disease. She is attempting to explore the internal, structural and organizational system of signage and warnings in her most recent paintings.
Upcoming visits include the Idaho Watercolor Society, which will become a first-floor gallery on Nov. 18 and will stay until Feb. 10.

Leave a Comment