Huff competes at DYW state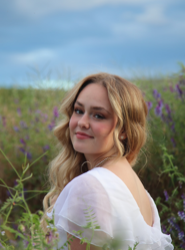 State awards went to both Annika Huff and the local Distinguished Young Women program at the DYW of Idaho state competition Oct. 7-8 in Idaho Falls.
Huff won a total of $2,650 in scholarships. She was rewarded $500 for the Theme and Design Award after she designed the theme for next year's State Program, "Ignite." She earned $600 for being in the top 10 finalists, a $700 Interview award, and the $850 Overall Scholastic winner.
The Lewiston Committee won Program of the Year out of 33 programs. Lewiston gained this title for careful following of national DYW guidelines and rules.
Huff, an LHS senior who serves as ASB vice president, won the Lewiston DYW competition in April. For that, she was rewarded $3,700 in scholarships, which included money from the main prize, self-expression, interview and scholastic awards.
As the Lewiston title holder, Huff was granted the opportunity to stay in Idaho Falls with the 32 winners from other programs in Idaho. The girls spent the week meeting each other and training for the big competition that would result in a winner who would gain the DYW of Idaho title.
Kenadee Kuhn, from Idaho Falls, won the 2022 state title. She will advance to the national competition in Mobile, Alabama, to compete against other states' winners for the national title.
Distinguished Young Women (DYW) is a national non-profit organization that gives high school girls the opportunity to earn scholarships and reach their full potential. Each year, several young women from participating high schools compete to win the Distinguished Young Woman title and represent their city at the state competition.
Leave a Comment