Try going Homemade for the Holidays
Finding the perfect gift can be a tough task, and whether you are trying to save money or are in the mood to get a little crafty, these homemade gifts will be fun to create as well as meaningful to the person who receives it.
Frame With Photo
This classic gift can be personalized perfectly for the recipient. Frames are inexpensive and can be customized using paint, markers or anything else you have around the house. Then just add a picture, and you're all set!

Personalized Mug
To create a unique mug, all you need is a mug, sharpies, and an oven. Simply color a design perfect for the recipient with sharpies, then bake the mug for 30 minutes at 350 degrees F. Then wrap it up and gift away!

Bracelets
From braided to beaded to tied, bracelets can be made many different ways depending on what supplies you have. A quick Youtube search can generate tutorials for any design, or just find some string and beads and go for it.
Christmas Cards
If you can't find a present, a heartfelt Christmas card is the way to go. Embroidery, watercolor, markers or pens can show your appreciation for your friends and family members.
Cookies
Everybody loves holiday cookies, and homemade cookies are fun and simple to make, with the guarantee to be a stand out present. Here are some recipes, or find your own.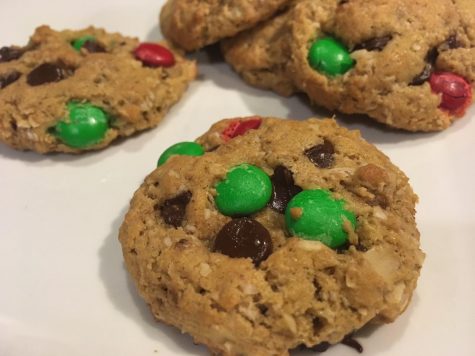 Monster Cookies (gluten free!)
Makes 6 – 7 dozen ∙ Source Allrecipes.com
Ingredients
● 3 eggs
● 1 cups packed brown sugar
● 1 cup white sugar
● 1 teaspoon vanilla extract
● 1 teaspoon corn syrup
● 2 teaspoons baking soda
● 1/2 cup butter
● 1 1/2 cups peanut butter
● 4 1/2 cups rolled oats
● 2 Tbsp water
● 1 cup semisweet chocolate chips
● 1 cup candy-coated milk chocolate pieces (choose christmas colors for a more festive look!)
● makes 54
Directions
Preheat oven to 350 degrees F (175 degrees C).
In a very large bowl, beat the eggs.
Add the remaining ingredients in order, mixing well.
Use an ice cream scoop to put on ungreased cookie sheet. Bake for 12 to 15 minutes.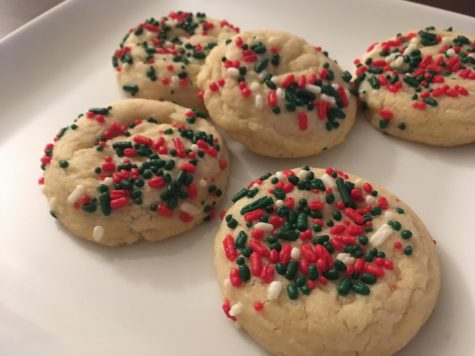 Cracked Sugar Cookies
Makes 24 ∙ Source M.allrecipes.com
Ingredients
● 1 1/4 cups white sugar
● 1 cup butter
● 3 egg yolks
● 1 teaspoon vanilla extract
● 2 1/2 cups all-purpose flour
● 1 teaspoon baking soda
● 1/2 teaspoon cream of tartar
● makes 36
Directions
1. Preheat oven to 350 degrees F (180 degrees C). Lightly grease 2 cookie sheets.
2. Cream together sugar and butter. Beat in egg yolks and vanilla.
3. Add flour, baking soda, and cream of tartar. Stir.
4. Form dough into walnut size balls and place 2 inches apart on cookie sheet. Roll in festive sprinkles if a holiday look is desired. Don't flatten. Bake 10 to 11 minutes, until tops are cracked and just turning color.
Leave a Comment