You Get What You Give by Zac Brown Band Still Great 13 Years Later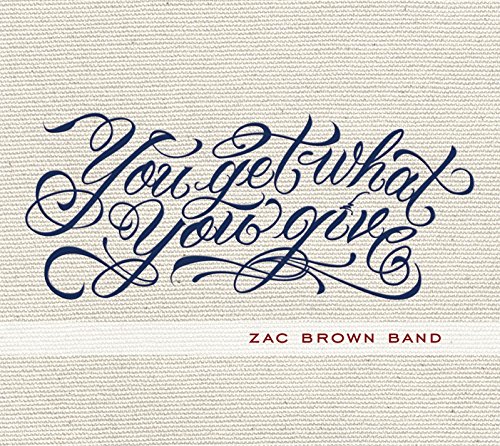 "Colder Weather" is The Zac Brown Band's most listened-to piece of music, but what most people don't know is what album the song comes from and the other great songs that are a part of it. You Get What You Give is the name of the album published on September 21, 2010, it has fourteen songs and has sold 1.9 million copies. Two other songs on it are a part of Zac Brown's top ten list which shows how great this album is, and why more people should appreciate it even if you don't listen to country music.
This album discusses the band members´ lives before, during, and after their music careers. Songs like "Let It Go" and "No Hurry" discuss their life before and after they were together, whether that be in reminiscing about younger times or talking about their funeral. Then there is the song "I Play the Road" which gives great insight into the divide between The Zac Brown Band's love for music and their love for their families, and the pain of having to choose between the things they love to do and the people they want to be with. All of these songs have one thing in common – they have great musical composition, and each is equally memorable.
Some of the songs closest to the hearts of the fans are "Knee Deep," featuring Jimmy Buffet, "As She's Walking Away", and "Colder Weather". "Knee Deep" has become known to people outside of Zac Brown's fan base because of its universal lyrics that talk about being on a peaceful white sand beach. Its reminiscent lyrics have made it a popular song even long after its release, and the addition of Jimmy Buffet adds to this feeling. Then there is "As She's Walking Away" which, still light-hearted, intends to send more of a message to the viewers about taking chances in life. This song has resonated with people and left a lasting impression on the band's music career. Lastly, there is "Colder Weather", which has an amazing chorus composed of a harmonizing cacophony of voices, telling the story of losing someone from things outside of your control. Even though the piece might be sad at times it stays in your mind because of the wonderful presentation of its story.
Although many people don't like country music, the album You Get What You Give should be recognized for its outstanding storytelling and production. Its ability to bring together the past, present, and future along with the stunning composition of its music is what makes this album so great. All in all, You Get What You Give has been the best album to come from Zac Brown Band in a long time and deserves five out of five stars.
Leave a Comment