Singing Valentines Information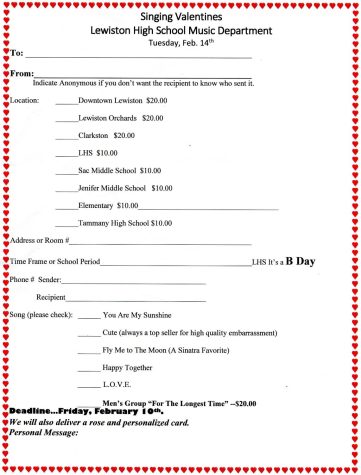 The LHS Music Department will be participating in Singing Valentines again this year. For $20 dollars or under, they'll deliver songs, a rose, and a personalized card to lucky recipients. Forms must be turned in by February 10th, and the deliveries will be made on Valentine's Day.
Valentines may be purchased for $10 for any delivery within the Lewiston School District, and $20 for any delivery within the Lewiston and Clarkston community. The songs offered are "Cute," "Fly Me To The Moon," "Happy Together," "You Are My Sunshine," and "L.O.V.E." Those interested may call the high school at 208-748-3182 or email Julie Burke at [email protected]. All proceeds benefit the Lewiston High School Vocal Music Department.
Leave a Comment