Ant-Man: Phase 5 begins with (ant-sized) bang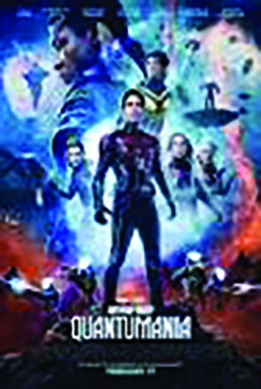 The Marvel Cinematic Universe (MCU) ended its Phase 4 with Black Panther: Wakanda Forever. And now it's starting Phase 5 with Ant-Man and the Wasp: Quantumania. It's directed by Peyton Reed, who directed the last two Ant-Man films along with Bring it On. As of now, this film concludes the Ant-Man triology, although nothing about that has been confirmed or denied by the head of Marvel, Kevin Feige.
The film takes place after Avengers: Endgame, where Ant-Man and the Wasp participated in the final battle against the Avengers' biggest threat, Thanos. Scott Lang is Ant-Man, played by Paul Rudd, who is most known for Perks of Being a Wallflower and Clueless.
Scott Lang finds himself exploring a quantum realm with his superhero partner, Hope Van Dyne (Evangeline Lily), and her family members, Janet Van Dyne (Michelle Pfeiffer) and Hank Pym (Michael Douglas) The quantum realm is an amalgamation of two dimensions from Marvel Comics. The superheroes push themselves to the limits of possibility.
The film starts with Scott Lang recapping what has happened with his newfound fame from defeating Thanos by writing books and going to events with Hope Van Dyne. Scott's daughter, Cassie (Kathryn Newton), has become more rebellious and has been arrested twice for protesting. After saving the world with the Avengers once, Cassie calls out her dad for not trying to do anything good for the world after he saved it. Cassie shows Scott what she's been doing while he is busy with his book and fame. She creates a device that sends a signal into the quantum realm. Janet freaks out and unplugs the device, which sends them into the quantum realm.
The film has a 47% on Rotten Tomatoes, which it doesn't deserve. It was a great movie to open Phase 5. It perfectly sets up the future Avengers movie, The Kang Dynasty, which is set to release in 2025.
The Ant-man films have been the comic relief of Marvel. In Phase 4, the movies felt as if they were trying to be too comedic, but this film has the perfect balance of comedy and drama. There aren't too many jokes, but when they show up, the actors deliver them perfectly. The final fight scene between Kang (Jonathan Majors) and Scott is exciting, and it's interesting to see the people and creatures of the quantum realm.
The pacing is off at some points because of the different story lines, and the acting is awkward and hard to watch at points. But it has beautiful cinematography. Overall, it's an enjoyable movie that will excite Marvel fans for Phase 5. Ant-man and the Wasp: Quantumania deserves a 4/5.
Leave a Comment