Noises Off: An amusing and witty production
Lewiston Civic Theatre presents Noises Off, known as the "funniest farce ever written," directed by Rod Farrington. Upcoming performances are at 7 p.m., Feb. 23-25, and 2 p.m., Feb. 26, at the Normal Hill Campus Auditorium in Lewiston.
A PG-13 play, Noises Off is a hysterical drama about a group of hectic and emotional actors who are attempting to perform their own play under the instructions of an aspiring director. Cut into three separate acts, the farce is filled with jealousy, bitterness and gossip, in which doors slam, sardines are forgotten and friends and lovers quarrel.
It begins with the housekeeper, Dotty, who plays Mrs. Clackett (Leilani Farrell), forgetting her act during a scene rehearsal. After the director of the play, Lloyd Dallas (Paul Segren), speaks from the audience to correct her, Garry (Matt DeBerard) and Brooke (Danielle Jones) come on scene. Soon after, the audience is introduced to Freddie (Cooper Knutson) and Belinda (Aidan Walsh), the house's owners. In the epitome of dramatic irony, the characters have no idea that there are others in the house — that is until a burglar, Selsdon (Mark Drevlow), enters the scene.
Act one demonstrates the rehearsal for the play-within-a-play, with cast members forgetting their lines or wanting to change certain scenes. The audience gets to view the behind-the-scenes during act two, in which the cast has multiple disputes that shortly turn aggressive. In act three, however, the play is performed live, and everything that can go wrong does go wrong.
All in all, Noises Off is a fast-paced play with constant drama, exciting plot twists and astounding actors.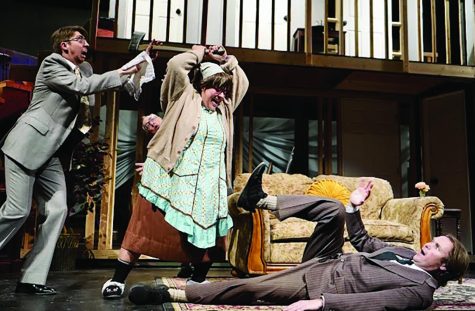 Leave a Comment