Accessible abortion should be a protected human right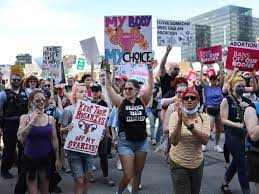 Since the dawn of civilization, women have faced constant battles against a patriarchal society and world. One of these battles is over women's reproductive rights, which have been in continuous question since before the word "abortion" was first spoken. Jan. 22, 1973, seemingly marked the end of government interference with a woman's right to choose in the U.S., when the Supreme Court voted on the landmark decision, Roe v. Wade. This made abortion a constitutionally protected right under the 14th Amendment throughout all 50 states. But on June 24, 2022, this decision was overturned, a mere 49 years later.
Abortion activists around the country have shared their concerns. On the top of this list is what, if anything, will change now that abortion access is highly restricted and even banned in some states.
A study done by the University of California known as the "Turnaway Study" surveyed 1,000 women across the country over five years. It documented the life changes of women who had an abortion compared to women who were denied an abortion.
According to science, women who were denied abortions faced many challenges afterward.
"Women denied an abortion had almost four times greater odds of a household income below the federal poverty level and three times greater odds of being unemployed," reads the fact sheet published alongside the study. Not only this, but denied women were less likely to be able to provide family necessities, and they were more likely to stay in contact with abusive partners.
An article by Georgetown Law School detailed the experiments that found restrictive abortion measures could also potentially lead to increased penalization of pregnant people. For example, after Texas passed one of the most restrictive abortion laws in the country, a woman was arrested for a self-induced abortion. She was charged with murder despite there being no laws that explicitly criminalize self-induced abortions.
"This case demonstrates that when fetal protection takes precedence over reproductive autonomy, the state becomes more willing to punish and criminalize actions taken by pregnant women," writes Isabelle Gilges, the article's author.
However, women losing rights to bodily autonomy is not the only concerning aftermath of restrictive abortion laws.
Clinicians for Yale Urology reported an 850% increase in the internet search, "Where can I get a vasectomy." The clinic additionally said that they had seen a rise in consults for vasectomies. Shortly after Roe v. Wade was overturned, the Cleveland Clinic reported that scheduling requests for vasectomies in the following weeks were five times what they usually received.
"Typically, the Clinic says they get three to four requests a day, but in the days following the ruling, they had recorded a total of 90," reported Gretchen Kroen, a writer for cleveland.com.
An increase in vasectomies across the country can have detrimental effects on the nation's population — negative population growth being one of them.
An article published by the National Library of Medicine detailed that numerous studies have consistently proven that restricted abortion access does not decrease unplanned pregnancy rates or the demand for abortion, and instead makes receiving care more difficult. Global data has proven that abortions will not stop with restrictions, but will simply become unsafe, which can result in grave injury or death.
Outlawing abortion can also considerably impact medical education, including limits on the teaching of skills that are necessary to manage pregnancy complications. In addition, the loss of Roe v. Wade will cause trained medical professionals to teach in dealing with complications regarding self-induced abortions. This will contribute to a higher rate of maternal deaths as physicians learn to deal with these obstacles.
All in all, it is clear that making abortion harder or impossible to access does not align with "pro-life" ideologies. A clear decision is made that one life is and always will be more significant than the other; the fetus over the mother. Instead of restricting access to healthcare reactively, preventative and proactive measures could reduce the rate of abortions among many demographics. In a perfect world, the approach to preventing abortion would include affordable housing and healthcare, pregnancy counseling, comprehensive sex education and easy access to contraceptives. These would decrease the factors that lead to abortion, rather than simply limiting abortion itself.
Leave a Comment