Q's with Katie: LHS says goodbye to the legendary Mrs. J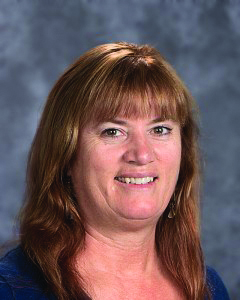 Hang on for a minute...we're trying to find some more stories you might like.
  Cynthia Johnson has been teaching at LHS for her entire career, 33 years, with the exception of one year spent on Whidbey Island. This year Johnson is retiring (or "graduating" as she likes to call it) alongside the class of 2017 after many years of influencing countless lives of her students. In her last month of teaching, she reflected on her career.
Katie Swift: Where and when did you start teaching?
Cynthia Johnson: Right here! I had a one-year teaching contract which turned into forever.
KS: What is one of the greatest realizations you've had as a teacher?
CJ: That teaching, just like life, truly is about building relationships.
KS: What has been the best part about your time here?
CJ: In the top five, we're getting a new school! That is so exciting. Just witnessing all the changes in education, and the relationships with students the relationships with staff, just all of the people that walk through your life and change it a little. [And] the recognitions [I've received], from a more selfish point of view. Teachers for the most part are very humble — we know that we receive those not for ourselves but because of influence of others.
KS: Has your life been different from what you imagined as a teacher?
CJ: Oh, yeah. My original plan was to graduate, teach on Navajo Reservation for a few years and then go back and get a degree in forestry. I thought I'd have a few kids and live in the southwest.
KS: What was your all time favorite thing to instruct and why?
CJ: Psychology. It's where many get their first ah-ha moment in the connection of life and school. There's a moment of "this applies to me," and that's really neat to see happen. I have 21 days left and I'm still revamping things. What the heck is that about?
KS: What lessons has being a teacher taught you?
CJ: It's all about relationships. Teaching is really great. Teaching math, teaching psychology, but it's all about relationships and building relationships. Teaching is not like anything else. It has definitely given me a deep understanding of an attitude of gratitude.
KS: What are your plans after you leave the high school?
CJ: I joke with my students about this. Truly, my immediate plan is simple. We moved from Lewiston eight years ago. So for eight years I have traveled home on the weekends [Coeur d'Alene] and back to Lewiston for the weekdays. [My husband and I] have missed being together every day and that is what I plan on doing — just being together. Everything else, like hanging out with my grandsons, spending time with family, enjoying recreation, traveling… that's just topping.
KS: Do you have any final words of wisdom for all of us?
CJ: It has been the most perfect calling, career, that I could have fit to my personality. That sounds goofy, but it just fit me.