The Rules Do Not Apply: A heartbreaking memoir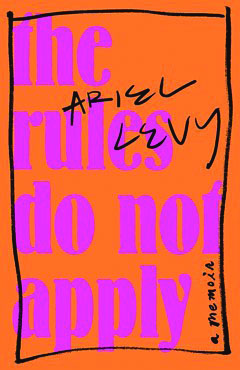 Hang on for a minute...we're trying to find some more stories you might like.
  The Rules Do Not Apply written by Ariel Levy, is a memoir about Levy's own life. Levy is an American journalist and works for The New Yorker magazine. Many of her books contain mature content and she has very strong views regarding "modern sexuality."
  Throughout the story, Levy speaks on feminism and what it truly means to be a woman. Does it mean she has to be married? Have children? Levy tries to push all of these into her life, because that's what "normal" people do. However, the consequences are catastrophic in the end.  At 38 years old, Levy was married and pregnant. Then in almost a blink of an eye, she took a trip to Mongolia, neither of those were true anymore.
  Levy describes her life from childhood up until age 38. Her childhood revolves around the idea that she should never have to depend on a man. Levy's mother engraves this mantra into her head her entire life. She knows she does not want to end up like her grandmother, who depended too much on her husband and ended up losing everything.  
  When Levy grows up she becomes a journalist. Writing and living in New York, Levy spent a lot of her early-mid adulthood traveling to different countries for her stories. Traveling was her passion and she never thought there was anything out there that could bring her the same joy. However, when she met Lucy, she thought maybe a "normal" life was possible. They fell in love and decided they wanted to be married, but marriage for them was not legal at that time in the early 2000's.
  Levy's adulthood is not the happiest by any means. Her relationship with Lucy was full of lies and deceit by both people. However, Levy and Lucy both decide that they are ready for a baby. This, however, does not go over as planned, as Levy explains in the first few pages of the book.
  As for the writing style, it is fairly simple. However, her use of imagery is what makes the book a real page-turner. Levy describes the scenes and characters in her life in a way that makes the reader believe they are experiencing them right along with her.  The writing style and use of imagery throughout the book are the reasons that this book receives a 7/10.