First-time Modest Music Festival successful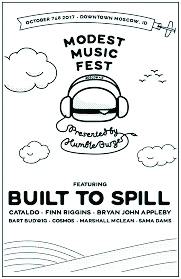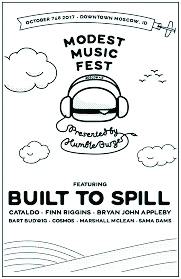 Humble Burger in Moscow put on the Modest Music festival for the first time ever Oct 10-11. This all-ages festival had 35 musical artists perform throughout a two-day duration. The performances took place in four different Moscow locations: Humble Burger, Mikey's Gyros, One World Cafe and Last Frontier Pizza Co.. Local music fans should be on the lookout for a couple of standout artists in particular — Chris Staples and Holiday Friends.
Staples is a singer and songwriter from Florida who has produced several albums. He has a knack for writing deep and emotional lyrics and chord progressions for the guitar. His mellow voice adds to the soothing musical aesthetic that he is going for. His work is on iTunes currently, and a single to listen to is called "Dark Side of the Moon." This song is beautiful and sums up his musicality to a tee. Staples' songs sound like songs one would hear going into a hipster coffee shop, in the best kind of way. The next band however, is far from that.
Holiday Friends is an alternative band based in Idaho. Their sound captivating. It manages to sound relaxed yet upbeat at the same time. Listening to their song "Yellow Light" live gives listeners the chills. Their use of synth, electric guitar and bass (typical rock and roll instruments) creates a sound that many other bands leave as computer-generated, and that is truly special. The music they make is beautiful, and highly recommended.
Overall, this festival was a fulfilling and enjoyable experience, and local music lovers should watch for it when it comes around next year. It provided a way to discover new bands and artists to love, and it was also a very important community event for Moscow. If the opportunity arises to go in 2018, take it.