Christmas music, drama touring Lewiston schools Dec. 13-14
Courtesy of Lewiston School District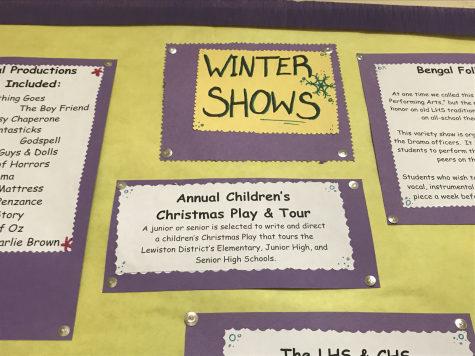 Abby Bower
The Lewiston High School drama and music departments will go on their 2017 Children's Christmas Tour throughout Dec. 13 and 14.
The tour will visit 11 Lewiston schools. At each stop, the kids will see a Christmas play, written and directed by LHS senior Meeka Woods, and a few songs performed by LHS Gold Voices, directed by teacher, Julie Burke.
On the first day, the 13th, they will visit Jenifer Junior High at 8:30 a.m., McGhee Elementary at 9:40 a.m., All Saints Elementary at 11 a.m., McSorley Elementary at 1 p.m. and Whitman Elementary at 2:25 p.m.
On the second day, the 14th, they will travel to Sacajawea Junior High at 8:40 a.m., Centennial Elementary at 9:40 a.m., Webster Elementary at 10:40 a.m., Tammany Alternative Center at 12:30 p.m., Camelot Elementary at 1:30 p.m. and Orchards Elementary at 2:30 p.m.
The Gold Voices choir will give two more performances Dec. 13: the first, a retired teachers luncheon at 12:15 p.m., and the second at school district Central Services office at 1:45 p.m.