Top 10 tips for not dying at a concert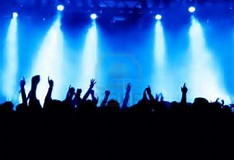 Hang on for a minute...we're trying to find some more stories you might like.
After covering tons concerts in 16 years for the Vans Warped Tour, and on her own, here are just a few tips this writer has for a great concert experience.
• 1) Always have a phone charged for pictures and videos, as well as for after-concert safety.
•
• 2) It's always good to have a small snack and lots of water, even if it's not an outside venue. Concerts do get hot and there is the possibility of passing out.
•
• 3) Research the concert area and figure out where everything is, especially the exits. For a venue like a Warped Tour setup, mapping it out beforehand means knowing where all the bands are and having a good experience.
•
• 4) If it is an indoor concert, wear light clothing. A jam-packed area full of people pushing and jumping gets pretty warm.
•
• 5) Makeup is going to end up running from movement and heat, so to avoid looking like a raccoon, especially if there is a chance of meeting the band, wear lighter makeup.
• Wear appropriate shoes.
•
• 6) For hair, go for a messy or curly look. Messy curls look nice, but messy straight hair can be a wreck.
•
• 7) Take something for the band to sign in case meeting them becomes an option. A small journal or sketch book is a great choice for signatures from different concerts.
•
• 8) Take a small backpack or bag. With a small backpack, there's no need to worry about dropping anything and it makes running, walking and dancing much easier.
•
• 9) If it is an outside concert, TAKE SUNSCREEN AND SUNGLASSES!
•
• 10) Lastly, Have fun! Don't go to the concert worried or scared and just enjoy yourself! Merry List-Mas!