Lady Bengals Swing into State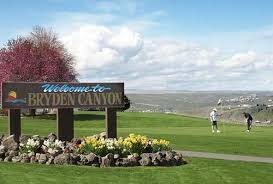 The LHS girls golf team was hard at work through April, competing at many tournaments in and outside of Lewiston. The team competed in six tournaments from April 11-30.
The team's top five girls traveled April 11 to Palouse Ridge for a tournament where they scored 516. The top scorer of this tournament was sophomore, Allison MacMillan, with a score of 94.
Their next tournament was April 16 at the Coeur d'Alene Public Golf Course, where seven members of the team scored 755, getting them third place. Meanwhile, three LHS girls — Megan Light, Allison MacMillan and Avery Literal — tied for the lowest and best score on the team with 100.
At a tournament on April 20 in Orofino, six Lewiston girls played nine holes, earning a team score of 382. Literal and Anika Grogan, sophomores, both had scores of 58, which were the lowest and best of the team.
During their tournament April 23 at Highland Golf Course in Post Falls, the team and its top scorer, MacMillan, played with scores of 398 and 95, respectively. This earned the team third place.
The team played April 27 at Hayden Lake Country Club in Hayden, where the team scored 380 and placed third. The top scorers, Anna Martin and Literal, each scored a 94.
The girls also attended a tournamentSandpoint at Idaho Club, where they golfed a 371. This was the best team score of the day and the girls walked away with first place. The top LHS golfer from this tournament was Martin, who scored 91.
The top five girl golfers qualified for the state competition on April 14 and 15 in Lewiston at Lewiston Country Club.