Hocus Pocus celebrates anniversary on Freeform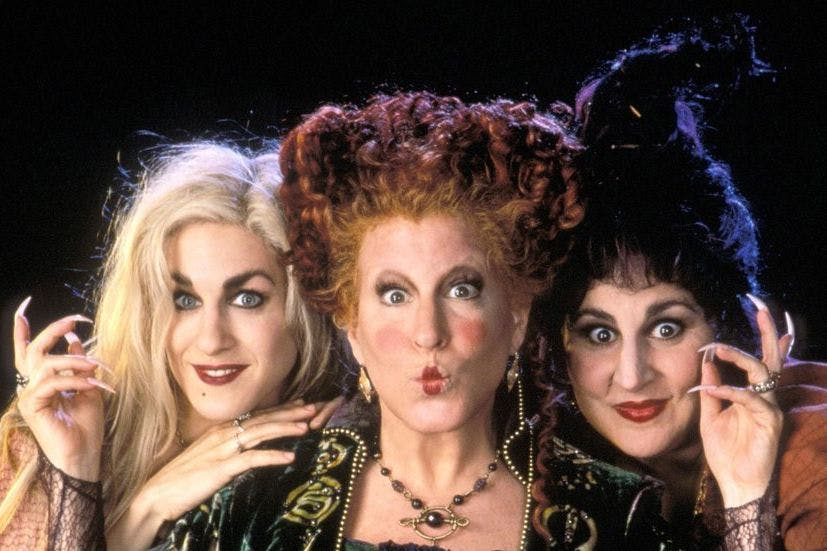 For the past 25 years, Hocus Pocus has been a classic Halloween film for people all over the world. The three Sanderson sisters returned to theaters this month for the film's 25th anniversary.
Hocus Pocus tells the story of three sisters, Winifred Sanderson (Bette Midler), Sarah Sanderson (Sarah Jessica Parker) and Mary Sanderson (Kathy Najimy), who were hanged for witchcraft in the 1800s. If one has never seen Hocus Pocus, it's worth to watch just for the extravagant costumes the three witches wear. The filming in this movie is done beautifully, shots of the town of Salem create a cozy and realistic feeling.
Max Denison (Omri Katz), his sister Dani Denison (Thora Birch) and their parents move from Los Angeles, California, to Salem, Massachusetts, where Max develops a crush on a girl from school named Alison (Vanessa Shaw). After Max is caught trick or treating with his younger sister at Alison's house, he decides to impress her by taking them to the old Sanderson sister house, which Alison's mom used to run.
When they get to the house, Max lights the black flame candle, which brings the Sanderson sisters back to life. The three sisters make a potion to take the youth out of children in order to keep themselves alive. For the rest of the movie, viewers are taken on a Halloween adventure with Max, Alison and Dani trying to help capture the Sanderson sisters with the help of a cat named Binx. Binx is really a person named Thackery Binx. He was put under a spell by the Sanderson sisters after they took the youth potion and killed his younger sister, Emily, before the sisters were hung. Binx is immortal and every Halloween he watches over the house making sure "no fool lights the black flame candle."
After seeing that Max lit the candle, Binx helps them capture the witches, so no children can ever be harmed by the Sanderson sisters again.
Hocus Pocus will also be shown all month on Freeform, and on Oct. 20 they will have a special 25th anniversary reunion marathon and show. Thackery Binx waited 300 years for a virgin to light the black flame candle and Hocus Pocus fans who have been waiting 25 for a special comeback finally are getting it.