Imua Hawaiian style resturant offers unique food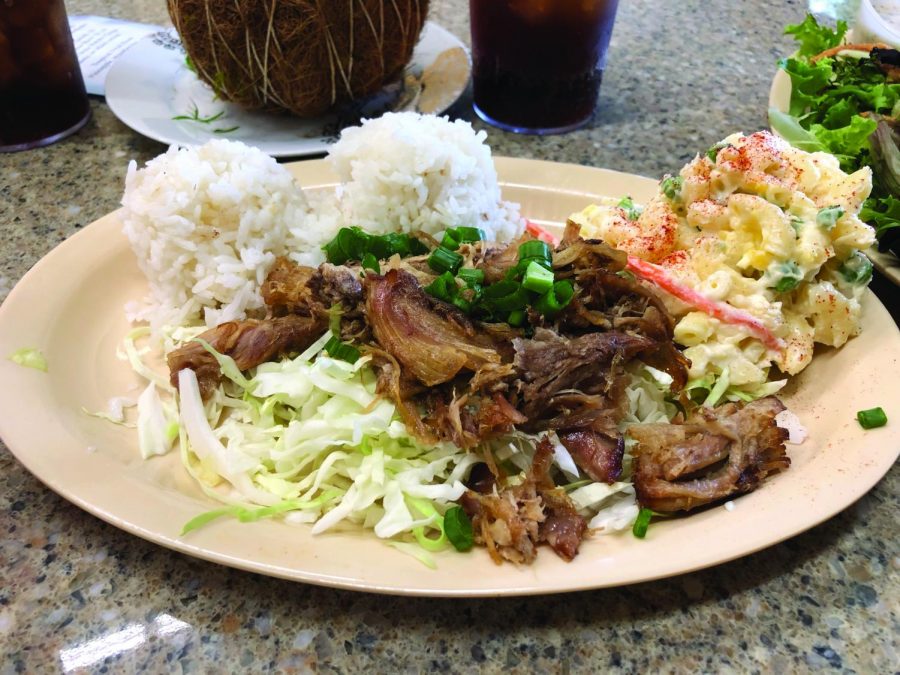 Eli Thomas, Co-Entertainment Editor
October 31, 2018
Imua Hawaiian Style Restaurant opened Oct. 9 in Suite 1 of Newberry Square on Main Street in Lewiston. The restaurant serves food with a unique Hawaiian twist, which includes Kalua Pork and Shoyu chicken. The items that will be discussed in this review are the Coconut Turkey Sandwich and the Kalua Pork.
Walking into Imua feels like walking into a restaurant in Hawaii. It is designed and decorated very well with a Hawaiian theme, and yhe atmosphere is warm and welcoming. Every worker greets visitors with a smile, and they are knowledgeable and helpful when it comes to the menu. The only slight problem is that it took pretty long to get the food out. But, then again, it was their first day in business, so that is not unexpected.
  The Coconut Turkey is a great sandwich. Every bite is full of a wide array of flavors that combine to make one great taste.
Possibly the the best aspect of this sandwich is its sweetness. This usually tends to ruin the flavors of sandwiches but in this case, it does the opposite. The turkey is flavorful, and the Hawaiian potato chips on the side are a good touch to pair with the sandwich.
The bread also has a great texture — just the icing on the cake for this sandwich. It gets a 9/10.
  The Kalua Pork is a great dish in the way that it offers many different foods, all with unique flavors. The foods in this dish are not similar from a culinary standpoint, but they are grouped together in a way works well.
The pork is flavorful, and this seems to be the signature dish at Imua, for very good reason. The meat is cooked perfectly and is a treat for the taste buds.
Under this pork is a bed of cabbage, which is surprisingly good. The taste of cabbage and pork contrasts well to make up the main component of this dish.
The only downside to this dish is the macaroni, which is bland and tasteless. It doesn't add to the dish and seems like it does not belong due to its bland taste. It gets a 7/10.
Overall, Imua serves up very good food with excellent service at a stellar venue. It is a unique restaurant compared to the others in the valley. On opening day, it had very few problems overall, and for that reason it gets an 8/10.