Top five greatest albums released in 2018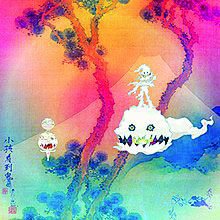 Eli Thomas, Co-Entertainment Editor
December 14, 2018
Like many years before it, 2018 brought a copious amount of new albums. Some long, some short. Some sincere, some meaningless, some good, some terrible. Out of all those, here are the top five best albums.
 5. Against All Logic, 2012-2017: Nicolas Jaar-better known by his stage name, Against All Logic, delivered  the most exciting electronic release of the year. Songs like "This Old House Is All I Have" and "Some Kind of Game" showcase the amazing sampling that make this album a standout.
4. Kurt Vile, Bottle It In: The Indie rock artist released his best album yet with Bottle It in. From simple laid-back folk rock songs like "Mutinies" to the country-influenced "Rollin' with the Flow," Bottle It In is easy on the ears while still providing an interesting listening experience.
3. Kids See Ghosts, Kids See Ghosts: Hip-hop superteam Kanye West and Kid Cudi released their first jaw-dropping album together last summer. The instrumentals on this album are amazing with West sampling everything from grunge icon Kurt Cobain to jazz singer Louis Prima. This album also shows both rappers on top of their game lyrically.
2. The Alchemist, Curren$y, Freddie GIbbs, Fetti: This collaboration between two rappers,with production by The Alchemist, has only nine tracks and runs only 24 minutes long, but that doesn't stop it from being the best hip-hop album of 2018. The amazing production, clever lyrics and flow from both rappers make Fetti 24 minutes of rap perfection.
1. Jack White, Boarding House Reach: The former White Stripes lead singer took a massive step out of his alternative rock-based comfort zone on his third solo album. White brings elements of jazz, electronic and even old-school hip-hop into his sound here. It pays off with stellar songs such as "Corporation," which focuses mostly on instrumentation, but also has a good lyrical message. This album is one to listen to over and over. and over.