KFC strikes back at new Lewiston location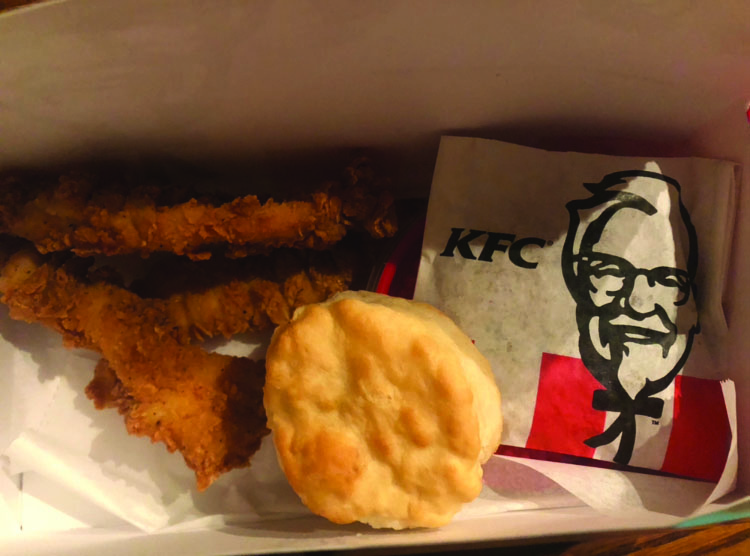 Eli Thomas, Co-Entertainment Editor
January 25, 2019
Kentucky Fried Chicken, the international fast-food chain specializing in Southern-style fried chicken reopened a franchise in Lewiston at 2329 Thain Grade late last month.
Many people were skeptical of KFC's return, especially after it closed its location where the year-old Mod Pizza stands. Nevertheless, KFC saw many locals flocking to its doors within the first few days of re-opening.
The big question has been whether KFC has improved. This writer put to the test the KFC Three-Chicken Tender $5 Fill-up (with a side of macaroni and cheese).
The interior of the new KFC location is quite impressive compared to the last, as it offers a very simple but modern aesthetic. The dining areas are very clean and the service is relatively good for fast-food, however it is not outstanding. The food was prepared in a reasonable amount of time.
The chicken itself was actually very satisfying. It was crunchy, warm and flavorful. It stood out compared to fried chicken at other fast food restaurants. However, the biscuit that came with this meal was sub-par at best, dry and bland, almost like eating Styrofoam.
The problems did not stop there. The mashed potatoes were awful. It was hard to find any of them in all the gravy. The gravy ruined any chance that the mashed potatoes had at being a good addition to the meal. Plus, there was an extraordinary amount of it (even after a request to hold the gravy). This entire part of this meal was ruined by the staff's inability to follow simple instructions. It easily could have been avoided if they had simply listened.
Thankfully, the macaroni and cheese was on the opposite of the culinary spectrum — tasty and filling. The temperature was perfect and the cheese was gooey and scrumptious. The macaroni had the perfect texture and temperature, making up for the mashed potato disaster.
The cookie in this meal was phenomenal. It was a warm and gooey chocolate heaven. It is probably one of the best cookies in fast food, and it provided the perfect ending to this above-average fast-food meal.
Despite a couple of setbacks, this meal was good. The new local Kentucky Fried Chicken did a great job on its signature chicken, but perhaps needs to shift focus on some of the side dishes. However, the mac and cheese side was probably the highlight of this meal and it definitely made up for the mediocre biscuit and the awful mashed potatoes.
At the end of the day, KFC is a fast-food restaurant, so people should not have high standards before going there. The new Lewiston KFC does offer food that is superior to many of its competitors. For these reasons, KFC gets a 3/5.