Happy Death Day impresses audience
With all the recent buzz about the new release of Happy Death Day 2U, reviewing about its prequel, Happy Death Day, only seems fitting. This film is a PG-13 thriller with a comedic flair and a murder mystery element.
This movie was released Oct. 13, 2017, and directed by Christopher Landon. It follows the story of a college girl and sorority sister named Tree Gelbman (Jessica Rothe). She wakes up on her birthday to find herself in the dorm room of her classmate Carter Davis (Israel Broussard). She goes through a hangover of a day until a masked killer murders her at nightfall. The story adds another level of creepy with the killer wearing a mask of the school mascot, which is a baby. A
After her stabbing, Tree wakes up once again in Carter's dorm and lives out the same day, feeling all sorts of deja vu. Once again she gets murdered and wakes up in Carter's dorm. Now Tree knows she is stuck in this time loop and enlists the help of Carter to find out who her killer truly is.
Spoiler alert! Most movie endings are predictable, but this one has a complete plot twist. Although some people love the ending and some people hate it, it is a complete surprise to find out that Tree's roommate Lori Spangler (Ruby Modine) is the real killer. Lori is so jealous of Tree that she uses a poisoned cupcake to do the deed. Trust no one.
This movie is a solid four out of five stars. It's docked a star due to the lack of horror for being classified as a "horror film" and the death scenes are often too predictable and cheesy. Carter also shows little character development for having such a pivotal role in the plot. Additionally, what college has a baby as its mascot?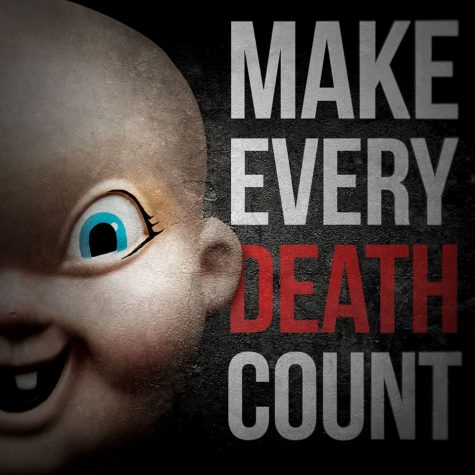 All the great things about this movie overpower the bad ones, though. There are was the big plot twists, the developing relationship between Tree and Carter, and Tree's own character development. That last one is important because at the beginning, Tree shows the audience that she is stuck up and self centered. But by the end, she shows much more compassion for those around her.
All in all, this film is definitely worth the time and doesn't disappoint. The best decision would be to go watch it before the sequel release Feb. 14, 2019.