Golden Throne raises $14,000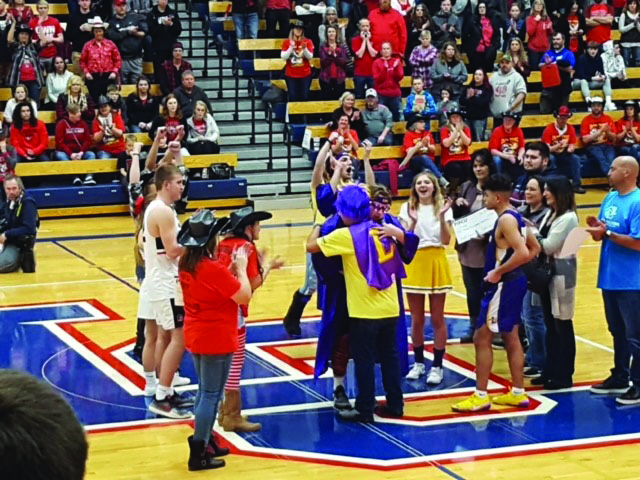 Abby Burgess, Sports Assistant
April 10, 2019
At Golden Throne, LHS and CHS got together and raised $14,000, with CHS winning both of the basketball games and the spirit competition.
The money was split up and given to five different charities chosen by the student councils from both schools, an application process, and a review of those applications. The charities this year included Boys and Girls Club receiving $3,500, CASA (Court Appointed Special Advocates) receiving $3,500, Lewis-Clark Animal Shelter receiving $2,380, LUCC (Lynch Up to Cure Cancer) receiving $2,380, and Joey's Blankets of Courage, Strength, and Hope receiving $2,380.
Joey's Blankets puts the money towards making blankets, buying fabric, and mailing them when they're done.
"When my charity was called at the game, I was shocked, but at the same time happy," said junior, Joey Thomasson, the founder of Joey's Blankets of Courage.
The student leadership members at each school put a lot of effort into picking a theme for their school. This year, Lewiston did an 80's retro theme and Clarkston did a western theme. They were both judged for spirit at the end of the game, and then informed that CHS won the 2019 Golden Throne.
"I was thrilled that Clarkston won!" said CHS librarian, Debbie Lynch. "The students worked really hard on the theme, dance, and being positive with their cheers… It's great to see our community support our two schools in this manner."
The school's both dedicate an entire spirit week to build up to the basketball game. This year, the Clarkston girls varsity basketball team won, 71-50, and the Clarkston boys team won, 60-55.
Lewiston may have lost the throne, but in the end it was a fun week for both schools.
"I was disappointed when Clarkston won but it was well deserved and they had a good theme that they worked really hard on," said junior, Amie Greenfield. "We could have done better but Clarkston deserved the throne."