LHS drama department ends year with one-acts, follies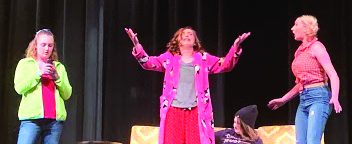 The LHS drama department has had a successful school year and has recently put on two different shows.
In March, the group put on eight performances of its spring musical, Annie. The show sold about 1,000 tickets, and made the drama department around $3,500, according to the LHS drama adviser, Mel Syverson.
On May 10 and 11 the students presented two nights of original one-act plays. This show included 10 short plays, all with different directors. Student writers and directors included Kooper Baldwin, Krystal Baldwin, Cody Bloodsworth, Ani Galeano, Max Galeano, Phinehas Hammond, Jazmyne Hartogh, Ray Littlejohn, Trinity Nomee, Eve Schmidt and Trinity Weigand. This annual event earned the drama department around $500, according to Syverson.
Although the department has big plans for the upcoming school year, Syverson said there are no plans for a combined summer revue with Clarkston High School like there has been in years past.