Live-action Pokémon Detective Pikachu succeeds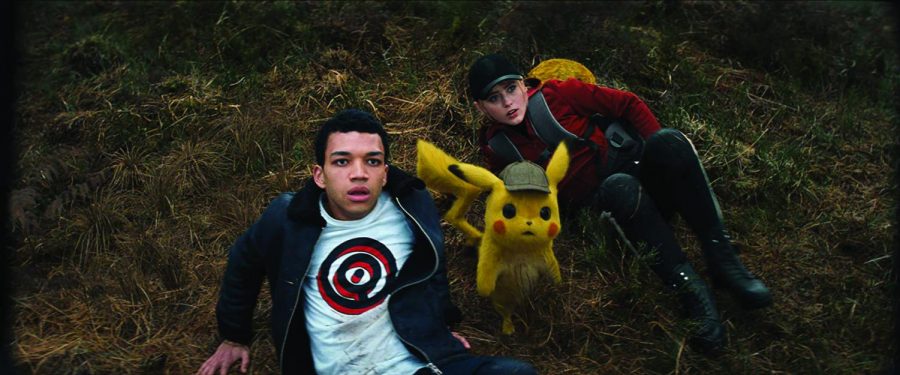 *SPOILERS*
The new movie Pokémon Detective Pikachu debuted May 10. Though the movie only received a 64 percent on Rotten Tomatoes, the nostalgic film has laid a new field out for interactive graphic design. Meanwhile, many viewers get heartfelt enjoyment in  seeing the make-believe animals that they grew up with.
 
When this movie debuted at Lewiston's Village Centre Cinema the only viewers in the theater appeared to be people over the age of 18. This was not a surprise, considering that many  kids growing up from the late 1990s to the early 2000s were infatuated with Pokémon. For instance, on Nov. 21, 2014, the Pokémon company released Pokémon Omega Ruby and Alpha Sapphire in Japan. The pair of games sold 1.3 million  copies as standalone packages and another 90,497 copies in the form of a "Double Pack" containing both versions. According to the Japanese sales tracker Media Create, early purchasers of Pokémon Omega Ruby and Alpha Sapphire were primarily in their 20s. The movie gave viewers the live-action Pokémon experience in the most perfect way.
The movie centers around Tim Goodman (Justice Smith), who is dealing with the recent loss of his father, Harry Goodman. The movie gives viewers a connection to the characters in a way that movies usually cannot do. This is due to the popularity of Pokémon, and due to the many Pokémon scattered throughout the movie.
Most of the Pokémon meet expectations in live-action form. But certain Pokémon bring a collective surprise.  For instance, Jigglypuff is known for having a "swirl" on its head that is the same color as its entire body, but a lot of people on Twitter or Facebook were stunned to realize that the swirl was the hair of Jigglypuff. Little surprises throughout the film like that keep the audience engaged.
Though the movie is interesting and almost too cute to handle, it has a very linear plot with a twist that can be guessed from the beginning. Still, the plethora of cute li'l' Pokémon make up for that.  
All in all, the new movie Pokémon Detective Pikachu is aesthetically pleasing, and the immense number of Pokémon it brings to life is almost overwhelming. The movie truly earns a 4 out of 5.