Downtown coffee shop begins to impress customers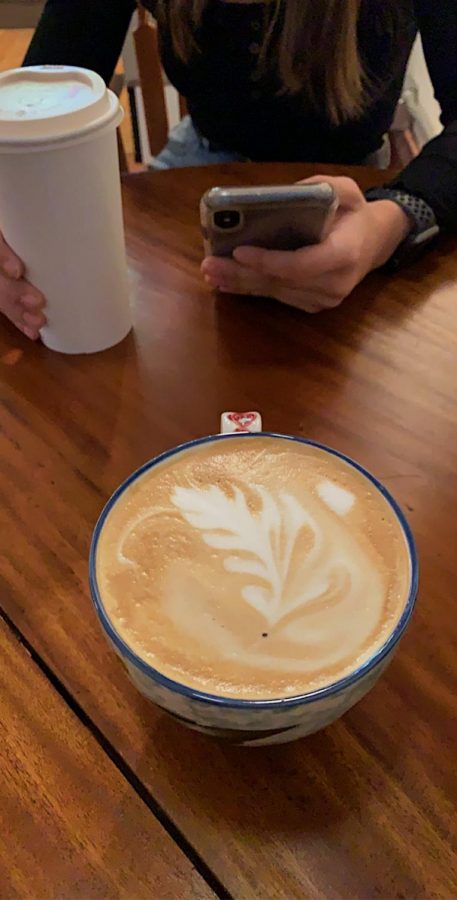 Tucked away on Main Street, Blue Lantern is a hidden gem in downtown Lewiston. This coffeehouse and wine bar serves various espresso drinks and baked goods. The items discussed in this review are the peanut butter chocolate chip scone and a vanilla latte.
Even before entering, one is met with a small section for outdoor seating decorated with hanging flower pots. As customers walk up the stairs, they can marvel at the massive marble pillars that frame the elevated glass of the cafe. Walking in, the space has a rustic, homey feel. Scattered with greenery, different types of seating, and artwork displayed for sale, the cafe offers a laid back feel where one could get work done on their laptop or share a drink with a friend. The area was cleaned and kept neat throughout customers coming and going.
One of the best seats in the house is the tables by the window. Since the building is elevated, customers have a great view of Main Street, which is notably more scenic during night time with all of the lights.
The cashier was very friendly, and the service was quick but not rushed. The drink was served in a mug and topped with latte art, while the scone was neatly plated. The scone was a little on the dry side, but the delicious drizzle helped with the crumbliness. It had the perfect amount of chocolate chip to dough ratio, which paired perfectly with the vanilla latte. The milk was steamed to perfection, and the coffee itself tasted fantastic. One can tell that thought was put into making sure that the shots were not too burned or undercooked, as it would easily show in a drink that wasn't heavily flavored. For these reasons, Blue Lantern gets a 7/10.