Young girl strives to help those in need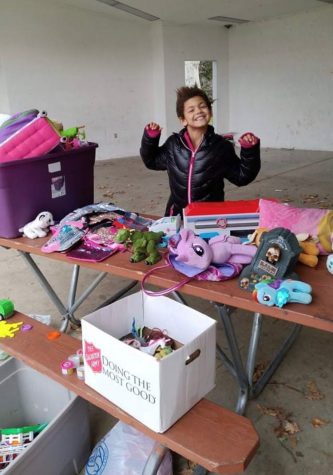 Abigail Hope Laming is a local 8-year-old attending Grantham Elementary School in Clarkston, Washington. For Christmas this year, Abigail wanted to give back to her community and the families who may struggle as hers has. She made a statement saying "I feel so bad for the homeless who don't have anything for Christmas. I want to give my toys to kids who won't get to open anything on Christmas day. I like opening presents on Christmas, so I know that other kids do too." Abigail is currently living with her mother, Amanda Laming, who is in need of major surgery. Due to her mother being unable to work they've had to alter their living arrangements. Abigail is aware that money is tight, and she would like to make sure that children in her same situation get to enjoy a Christmas as well.
Abigail and Amanda will be holding a food drive and gift exchange every Saturday from 12-2 pm until Christmas day. This event will be held at Pioneer Park and will be completely free to the public. For the gift exchange, you're welcome to just show up with your child(ren) and exchange old toys they don't want with ones that they do. The food drive portion is completely optionable, if you choose to donate please bring non-perishable goods such as canned foods and bottled water. All of the food collected from the food drive will go to a family in need.
Amanda says there will be food provided for those who choose to attend. Any donations outside of the food drive and gift exchange are available. Items that are kid-friendly such as shoes, clothing, backpacks, and bath products are preferred. Gloves and hand sanitizer will be provided at tables for anyone to use.