Sydnee Swift pursues her passion for music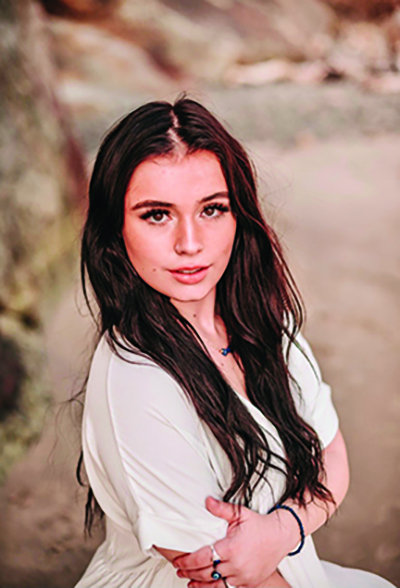 Bengals Purr: What activities have you been involved with during your high school career?
Sydnee Swift: I've been apart of the Lewiston Civic Theater for about 9 years now and during high school I performed shows such as Beauty and the Beast leading as belle, The Addams Family playing the role of Wednesday, I have met my second family and life long friends that will always have my back. I have also been involved in choir ever since elementary school! I've grown up with our choir teacher, Julie Burke and she has not only taught me excellent behavioral manners, but gave me the best high school experience throughout junior high and high school with choir class. I've been involved with our auditioned choir Gold voices and Treble Choir since 10th grade and selected Choir freshman year. I have also Participated in Distinguished Young Women, i won the Categories in Talent and Fitness. During my senior project I helped volunteer at the Willow Center-grieving center where I helped in grief groups of all ages from 6-8 yer olds. I was able to make a Grief pamphlet for our school counseling center in which I hoped to help kids, like me who are grieving the loss of a parent or loved one. The Willow Center Presented this pamphlet; they liked it so much that they are helping fund my grief pamphlet across Lewiston school districts and Clarkston School Districts as well! I was also a part of Cheerleading during junior high and high school. My sophomore year I made the Varsity High school girls team where grades 10-12 were combined. Junior year I ended up not pursuing with cheer my senior year because I wanted to focus on my music studies. But incredible experience having upperclassman show up the traditions of LHS so we were able to bring those forward the rest of out years of cheer and teach the younger classmen as we got older! It was a crazy High school that went by too fast and looking back, I wish I was involved in more. It goes by so fast you don't even realize, just live in the moment as much as you can.
BP: What are your summer plans?
SS: During summer I plan to work full time. I work at Hahn event rentals where I help people rent things usually for their wedding/events or this month's graduation parties! I also plan to take a few trips including one to Glacier National Park in Montana with my family and the Oregon coast with my friends! I hope to take a senior eventually, but I've been so busy and I haven't had time to plan one yet!
BP: What are you doing after high school?
SS: After high school I plan to attend LCSC College and do their study abroad program. I need a total of 30 credits in order to travel in which I have 15 going into college now. My sophomore year in college I will have enough to travel. I am planning on going to the U.S. Virgin Islands. I want to spend a full year there and experience all the different types of cultures and languages, especially outside the town I've been living in my entire life. I'll be majoring in social work and hopefully minoring in music! After my first year I want to transfer to a different state or country if I enjoy my study abroad experience!
BP: What is your favorite senior year memory?
SS: My favorite senior year memory was taking Elijah Dexter to prom and having him win prom king. I loved watching his face light up. That was my favorite part of my senior year.
BP: What three words would you use to describe yourself, why?
SS: Three words to describe myself I would say Strong, Determined, and Grateful. I have many friends to rely on and support me, and I have family if I ever need a shoulder to cry on. I'm grateful for everything that I have , even if it's the littlest things. If someone opens a door for me I'm happy for the rest of the day.
Leave a Comment