New high school on track for fall 2020 opening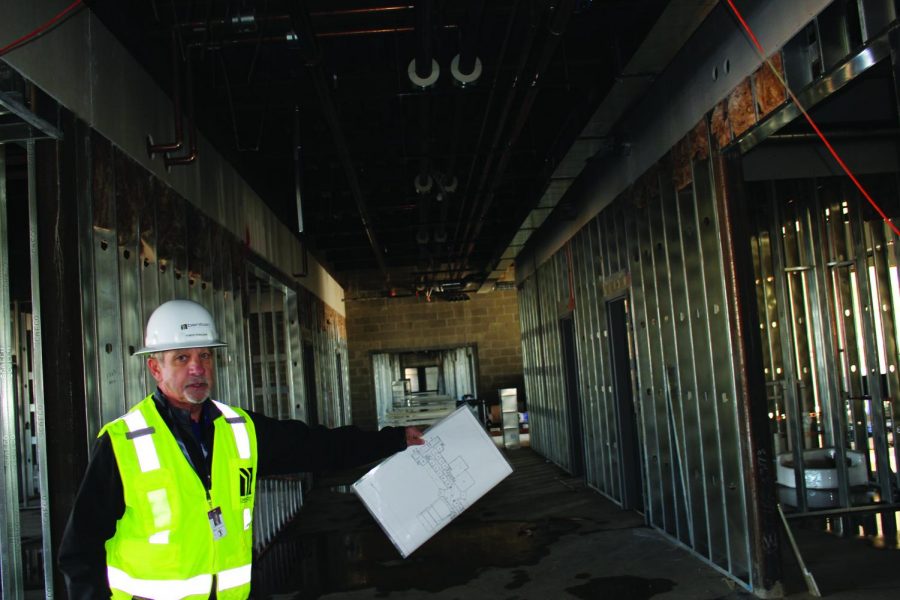 Lewiston citizens approved the bond to build a new high school in March 2017. Since that day, construction workers, along with school district and city officials, have been hard at work designing and building this new school so that it can educate students for years to come. Those officials, along with students and everyday citizens, have also input many requests as to what they would like to see in the new school. 
One of the biggest concerns about the current high school is security. LHS currently has over five entrances to the main building, and this has many members of the community worried about how easily a threat to students and staff could enter the building. Dr. Robert Donaldson, district superintendent, made sure to take this into account as the new high school was being designed.
"There are only two entrances to the main building," Donaldson said about the new school, "one right off the student parking lot and one that faces the career technical building."
In addition to that, all of the doors in the main building are egress doors, which according to secura.net are doors that allow for easy evacuation in case of an emergency. They are also magnetic, meaning they can be locked down in seconds with the push of a button. In order to maximize campus safety, 90 cameras will be placed around campus to document campus behavior.
Sports and student athletes were another one of the main focuses when designing the new school. There are new facilities located on campus for almost every sport; this includes a softball quad, tennis courts, a baseball field, four practice basketball courts, a performance basketball court, three soccer fields, a practice football field and a performance football field that is surrounded by a track.
Two of the four practice basketball courts are located on the first level of the two-floor gymnasium, and the performance court is also located on this floor. However the courts can't be used at the same time. The other two courts are located on the second floor, and when they aren't in use bleachers can be pulled out in order to see the performance court below through a viewing space. When necessary the gym can seat up to 2,000 people with seating on the upper and lower levels. 
In addition to these state-of-the-art facilities, competing athletes will have separate locker rooms from students. At the current school students, student athletes, and athletes from competing schools have to share the same locker rooms. The new school has two locker rooms for girls and two for boys, which will be split among P.E. students and athletes on a daily basis. They will be shared among LHS athletes and visiting athletes when necessary.
The new high school also has many improvements for all students and teachers. Classrooms are bigger than those at the current school, according to Donaldson, and the standard classroom will be around 900 square feet. Science classrooms will be around 1,200 square feet in order to allow for a lab in each science classroom. These classrooms are approximately 300-600 square feet bigger than the smallest classrooms at LHS (which are about 600 square feet). The new school was also designed with expansion in mind, and the campus has room for 16 classrooms to be added to the building when needed. The cafeteria, gym and auditorium can all hold more people than is currently necessary. 
Donaldson and the design crew wanted to make sure that the new school was not only functional, but also nice to look at. This idea was implemented in many ways, one being the color of the school. Most walls are painted a purple-grey color, but each classroom has an accent wall that is painted either gold or a deeper shade of purple. Another visual aspect that was implemented is natural light. Each classroom has at least two windows, one on an outside wall that lets natural light into the classrooms, and one on the opposite wall to let that same light into the hallways. 
The music department will also get some much needed improvements. The new band and choir rooms will each have two practice rooms and an office. The band room will also have an additional two rooms, one for storing uniforms and one for storing instruments. 
The new high school will have a state-of-the-art auditorium for the performing arts programs at LHS. Unlike the current auditorium, the one at the new school does not have a balcony, but still seats around the same number of students that the current one does. This new auditorium also includes a catwalk around the entire room, and a pit where the orchestra can be seated during musical theater productions. Located right down the hall from the auditorium are two dressing rooms for student actors, a green room, and a storage room for costumes and sets. Earlier this year P1FCU made a generous donation, according to lewistonschools.net, this donation went entirely to this auditorium in exchange for naming rights. 
As changes occur for LHS students, everyone else in the district will experience them as well. Every elementary school in the district will start to house grades K through 5 instead of grades K through 6. The 6th-graders will attend one of the two current junior highs, which will be referred to as middle schools. And starting in the fall of 2020, 9th-graders will attend the new high school.