University of Idaho alumni compete in Olympics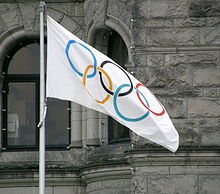 Two alumni from the University of Idaho recently competed in the 2022 Winter Olympics in Beijing, China.
Former undergraduate Robert Burns snowboarded in the Parallel Giant Slalom Event, a race that includes snowboarding between gates or poles. He placed 31st in the event. This was the first time the 31-year-old snowboarder competed in the Olympics.
The Team USA website explains that Burns participated in world championship events before the Olympics. His top finish occurred in 2019 when he received 15th place in the parallel slalom. Before competing, the alumnus graduated from UI in 2012, and he grew up in Colorado.
A second alumnus, Andrew Blaser, competed in Beijing as the sole member of the U.S. men's skeleton team. He participated in skeleton sledding, which involves lying down and traveling headfirst on a sled. The Team USA website states that the 32-year-old finished 21st in the skeleton sledding competition on Feb. 11. This was the athlete's first Olympics.
Blaser participated in the Men's Skeleton North American Cup before the 2022 Olympics, receiving gold in Park City and Lake Placid. The sledder placed 10th in the Men's Skeleton Intercontinental Cup the same year he received gold in the North American Cup.
Before competing, Blaser majored in Foods and Nutrition at the University of Idaho. He also graduated from UI in 2012 and he grew up in Meridian, Idaho.
Leave a Comment