Mitski's new album shows evolving sound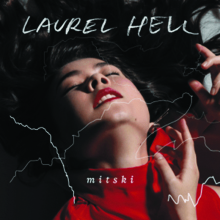 With the release of Mitski's sixth album Feb. 4, the artist explores different genres and she does it well. The album's main genres that seep through are synth-pop, indie pop, and electric rock. As with every artist who has been around for a while, with every album drop, people bring up if the artist's music is any good anymore. But as many times as Mitski switches the genres and feelings of her music, she never seems to approach anything poorly. This is reflected clearly in her new album, shown in each track.
1. "Valentine, Texas"
This song shows the audience Mitski's need to be loved fiercely, proving she continues to relate with her audience even as years pass.
2. "Working for the Knife"
This song features the idea of growing older every day, stuck in the same place, feeling as though you're not going anywhere in life.
3. "Stay Soft"
Although it is easy-listening, the lyrics reflect the human nature to keep your guard up after being hurt in the past.
4. "Everyone"
Even though this song talks about her reckless experiences due to her numbness, the music does not sound as good as her other songs on the album. The lyrics don't carry the piece as well as they should.
5. "Heat Lightning"
This song is about the effect of insomnia on the mind, featuring heavy bass instrumental.
6. "The Only Heartbreaker"
With just a few lyrics, Mitski tells the story of someone who always turns her into the bad guy, making her the one who destroyed the relationship.
7. "Love Me More"
This synth-pop track has a desperate-love song feel that many of Mitski's listeners can relate to. She wants more people to love her for her music, and this song shows her devotion to her craft.
8. "There's Nothing Left Here for You"
This short song explores the fears of abandonment that she faces. The gradual build adds to the emphasis of how she feels about being left.
9. "Should've Been Me"
Like her song "Stay Soft," this track has a very upbeat melody, but the lyrics talk about how she wishes the person she cares about would not choose to love someone else.
10. "I Guess"
This is the shortest and slowest song on the album and, arguably, the saddest. The song, feeling like a goodbye, says that she guesses she should move on.
11. "That's our Lamp"
This song is close to the album. Here, she desperately clings to feelings of nostalgia while she's thinking about her past love.
This album is full of successful bops. Mitski doesn't hesitate to take her music a step forward. Although this album is full of art and amazing lyrics, this album deserves a 4/5 for a couple of reasons. The album is just incredibly short, and there is one song that just falls a little flat, in my opinion. But other than that, this is a thoroughly enjoyable album that is worth recommending.
Leave a Comment