Foster care toy drive ends Dec. 1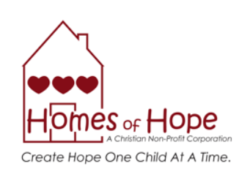 Trace O'Dell, Reporter
November 22, 2019
Homes of Hope is holding a toy drive Nov. 1 – Dec. 1 in three local cities. The goal is to help make Christmas special for children in foster care by donating new, unwrapped toys.
For all ages, a donation with a $25 value is recommended for each gift. For older kids $25 gift cards are a great option. (Suggested gift cards include Amazon, Ross, Rue 21, Macy's Walmart, Starbucks and Dutch Bros.)
People can drop off items by Sunday, Dec. 1 at these locations:
• Lewiston: Crosspoint Church, 1330 Powers Ave. (Drop off Monday through Thursday at 9 am or at Sunday service.)
• Lewiston: Skelton's, 621 Bryden Ave, Suite F.
• Lewiston: Homes of Hope, 818 17th Ave., by appointment.
• Moscow: Welcome Home Property Management, 805 N Main St.
• Grangeville: Health and Welfare Office, 216 S. C St.